Vegetable and fruit weighing and packing machines
Very high capacity, innovative design and solutions, masterful precision, durability allowing many years of use and a lot of additional improvements making the operation more intuitive – these are only a few reasons to invest in Sorpac machines and equipment!
Our range includes professional machines for vegetable and fruit weighing, portioning and packing in a huge number of variants, so that our clients can easily find solutions to their individual needs. The automation of processes using products developed by us is essential for cost optimisation – one device is able to replace many manual workers – so they can be reassigned to more demanding work. Our machines can be used to weigh, pack or clean many types of vegetables, in particular potatoes, onions, carrots, parsley, beetroot, celery, cucumbers and others.
Automatic portioning, weighing and packing of fruit and vegetables – a guarantee for increased production capacity on your farm or enterprise.
We offer top quality machinery for production:
automatic scales (weighing machines, weighing hoppers – AW models) with a capacity of up to 6 tonnes per hour

combination / drawer scales (MW models, so-called channel scales) with capacities up to 15 tonnes per hour

Mesh bag packing machines with single and double thread seaming heads (mesh bag packing machines – RF models – with NewLong, Fischbein and YaoHan heads)

film bag packing machines (film machines – FW models)

brushers (B models with 10, 12 or 14 brushes) for dry cleaning of potatoes and onions, among others, in many variants

selection tables (ST models) up to 300 cm long for both sitting and standing work

weighing and packing machines (AWRM models) i.e. weighing hopper with the function of weighing vegetables up to 6 tonnes per hour and packing them in mesh bags.

bunkers (ZB22 models) – hopper tanks with a capacity of up to 2 tonnes, 4 tonnes or 8 tonnes
In addition, our combination scales, automatic scales, weighing and bagging machines, packing machines, mesh bag packing machines, brushing machines or inspection tables can be integrated and combined into entire vegetable or fruit weighing and packing lines.
On special request, we can also develop other production machines for you to increase the efficiency of your portioning, weighing and packing processes.
All our vegetable and fruit weighing, portioning and packing machines can be adapted to even specific applications if required – and our experienced Sorpac specialists will help you!
Efficient production equipment directly from the manufacturer
Regardless of whether you buy a selection table, brush cutter, brushing machine, channel scales, a complete line or other machines for portioning, packing or weighing your vegetables, we always offer expert warranty and after-sales service. At start-up, we will give you free instruction to familiarise you with all the functions of the equipment supplied, to increase the efficiency of the machines, to take full advantage of their capabilities and to avoid possible damage during operation.
Please check our full range of production machinery. Should you have any further questions concerning our solutions for the machine weighing, packing and wrapping of fruit and vegetables, we are here for you.
•
Multi-head weighing machine MW1013 is a combination scales. It is used for weighing and portioning vegetables. Its function is based on assembling a given portion of a product from several smaller portions.This method is very precise, which is crucial for weighing small portions. There are 10 channels used in this type of machine, which gives it high efficiency. The use of the machine is very easy and intuitive thanks to the touchpad and the software created by SORPAC.
Specification:
Use: potatoe, onion, beetroot, carrot, cucumber, etc.
Number of channels: 10
Weighing range: from 0,5 up to 25 kilos
Capacity: 30 portions per one minute, 12 tons/h
Stearing: touchpad
Power: 400V 50Hz
Power supply: 2kW
Air demand: 900l/h
Additional options:
– collaboration with 3 receivers
– mobile partitions (carrots or parsley weighing)
– buffer tank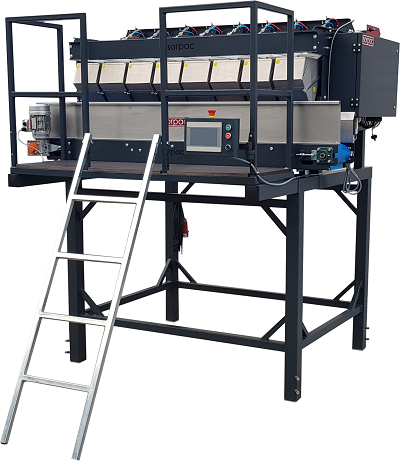 MW813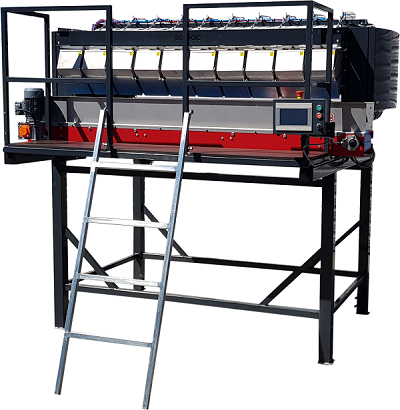 MW1013
•
Automatic scales AW312
Automatic weighing machine is used for portioning and bagging vegetables. It weighs a given quantity of a product and puts into a bag. It is possible to combine the scales with other automatic packaging machines. The lines applied have been officially approved for food production purposes. The application of steering touchpad is a novelty. The machine is highly efficient and precise during weighing process.
Use: potatoe, onion, cucumber, beetroot, etc.
Capacity: up to 5200kg per hour
– Weighing range: from 1 up to 30kg
– Pneumatic tank closing
– Control: Touchpad
– Power supply: 230V , 50Hz
– Size : L2300mm , W1100mm , H2200mm
– Weight : 260kg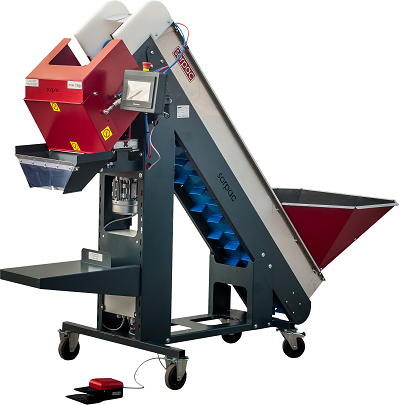 AW115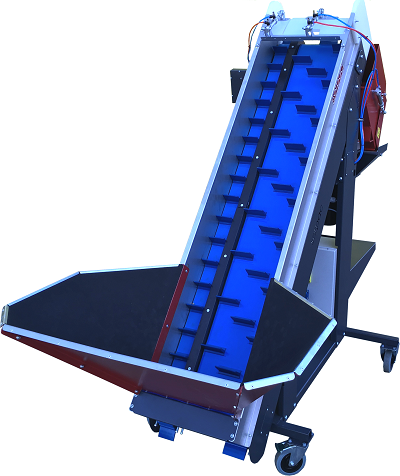 AW116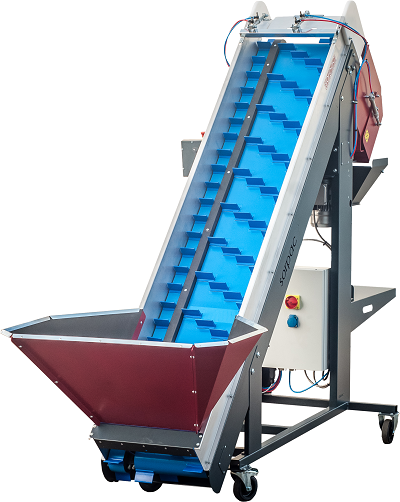 AW312
Rashel Bagging Machine is used to pack vegetables into rashel bags. A single packaging is made of a single roll of pre-sealed bags. The machine divides them and then sews the fully packed bags. It is possible to apply typical packaging sizes from 2.5 to 25 kg.
Rashel Bagging Machine can be equipped wih single or double-thread  head which sews according to he desired capacity.
Technical details:
Use: potatoe, onion, carrot, beetroot
Capacity: Single-thread sewing head: 10t/h
Capacity: Double-thread sewing head: 6t/h
Size of packaging: 2.5kg – 25 kg
Power supply: 400V/2kW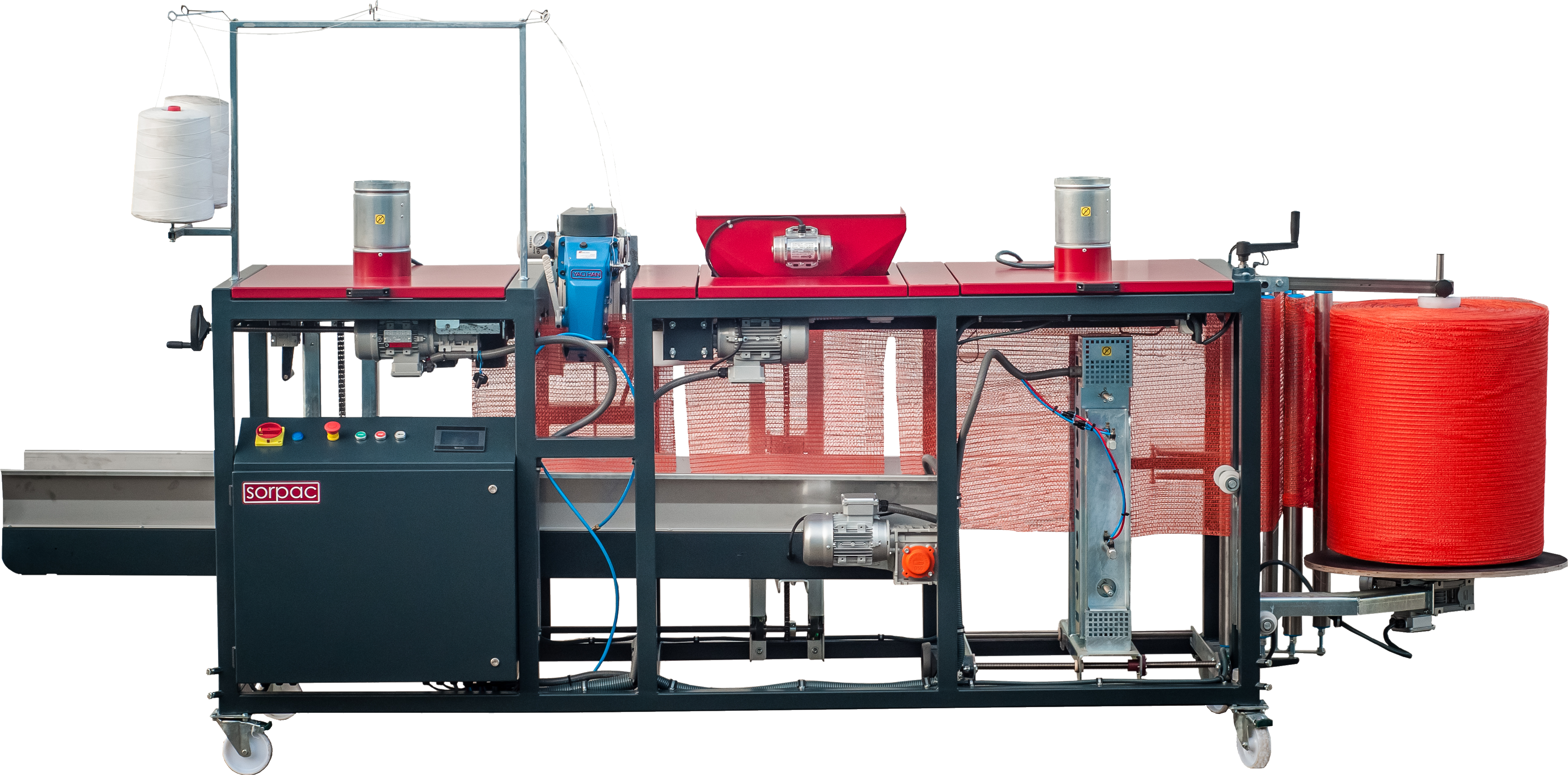 RF900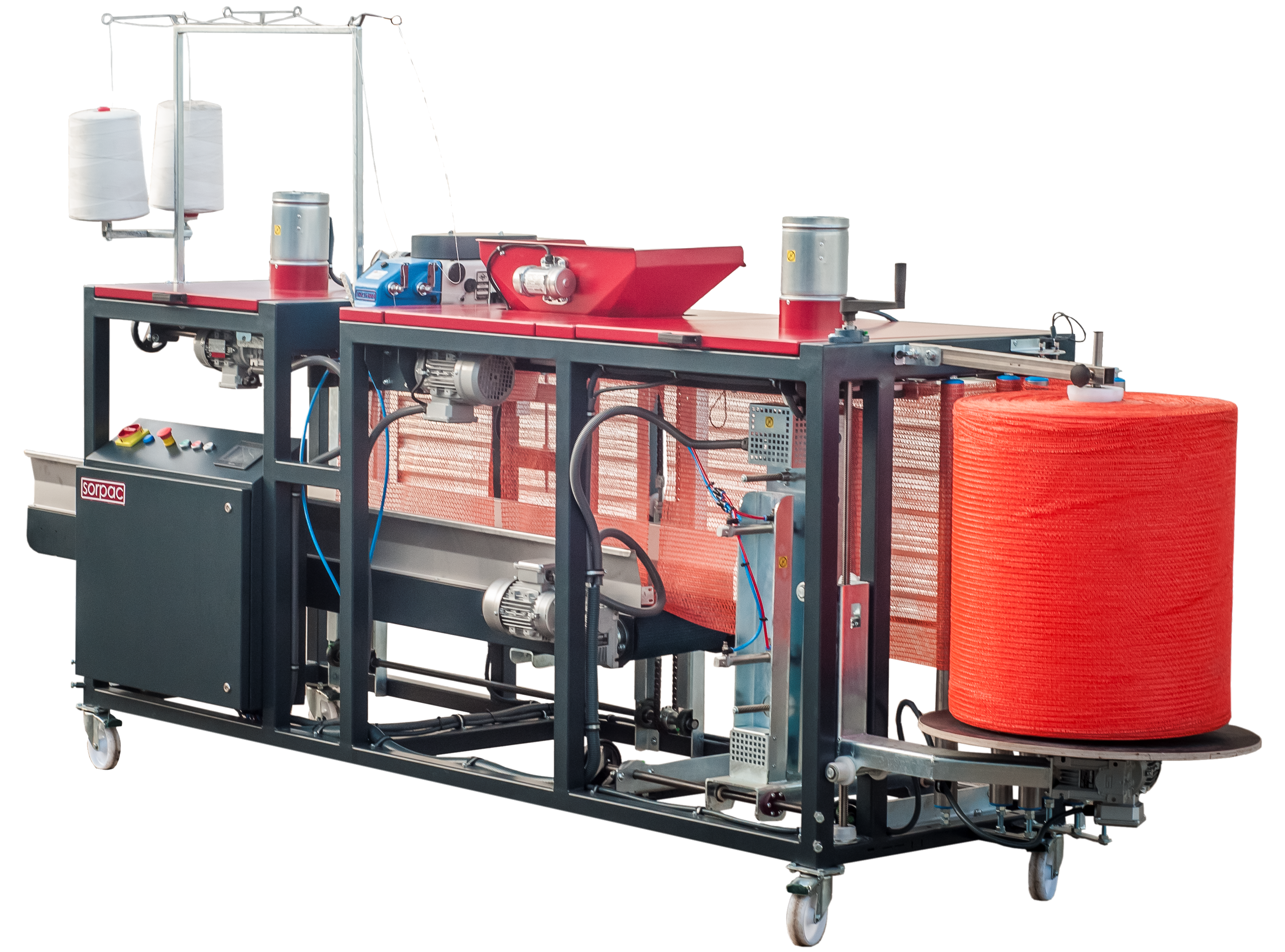 RF900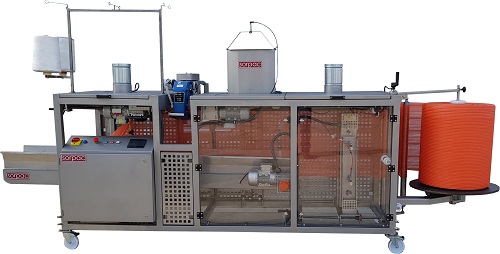 RF100
Multi-machine AWRM02 is a combination of two
machines – automatic wieighing machine and
packaging machine.
Used to pack vegetables in raschel bags.
Single pack is made from a roll pre-welded bags.
The machine portioned the goods and the weighed
portion is packed intothe bag. Then sacks sews filled
the product.
It is possible to use standard available sizes
bags for the balance 2.5 to 25kg
The machine can be equipped with a single or
two thread sewing head.
It is possible to work in manual mode and pack
bags bound.
Technical data:
Use: potatoes, onions, carrots, beets
Capacity: 6t / h
Package raschel size: 2.5 kg to 25kg
Weighing range: 1-50kg
Power supply: 400V / 3kW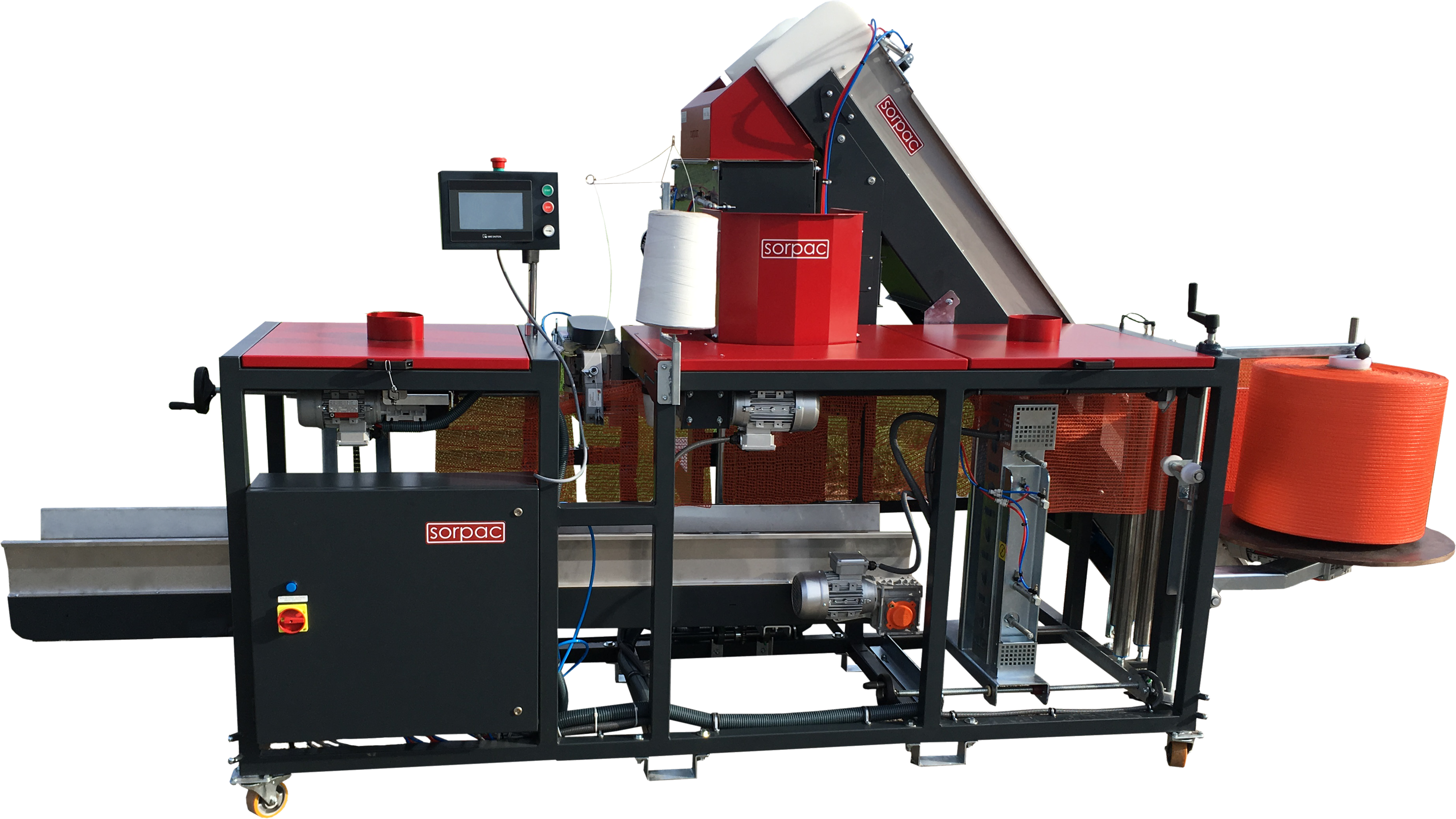 AWRM02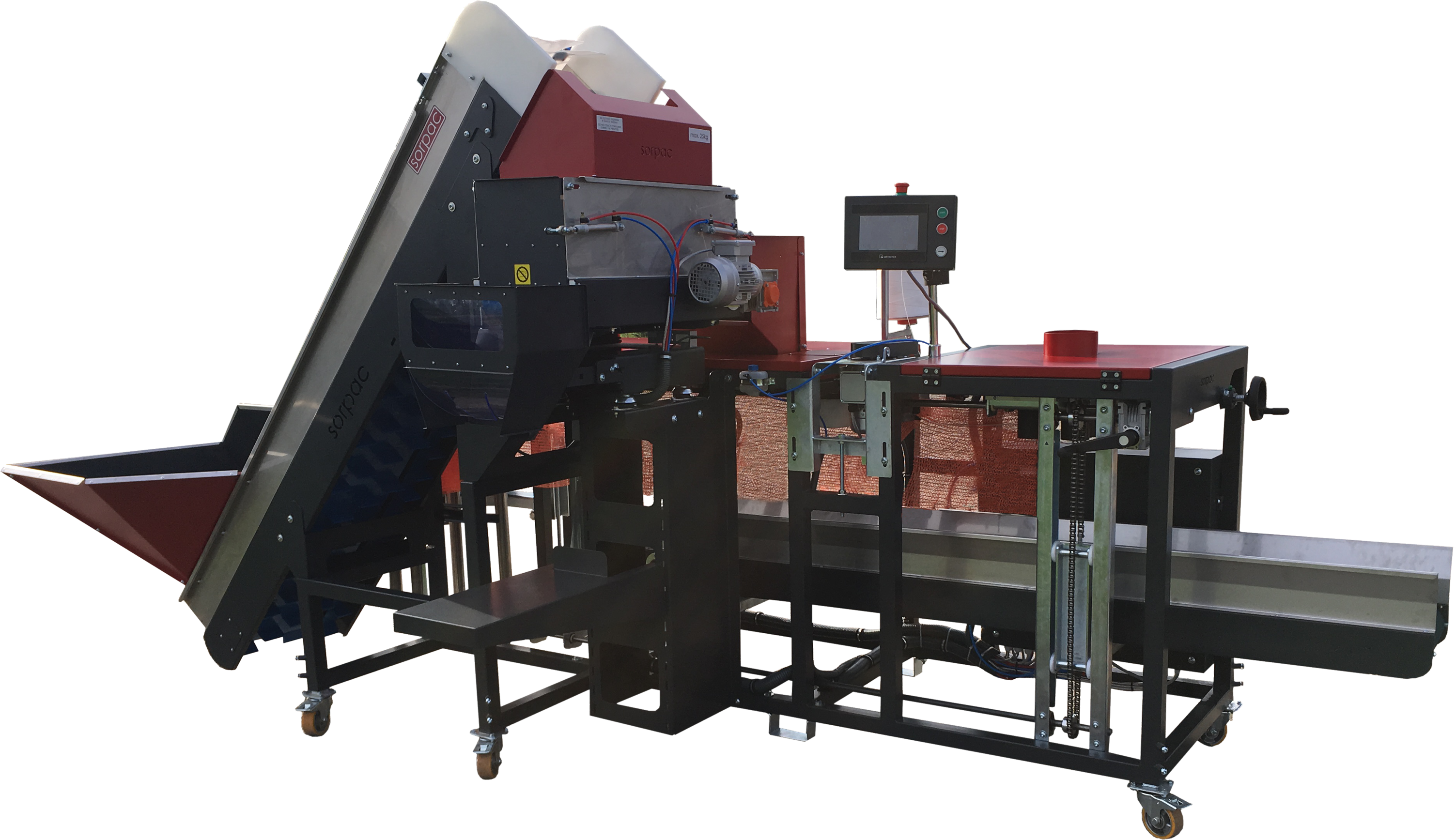 AWRM02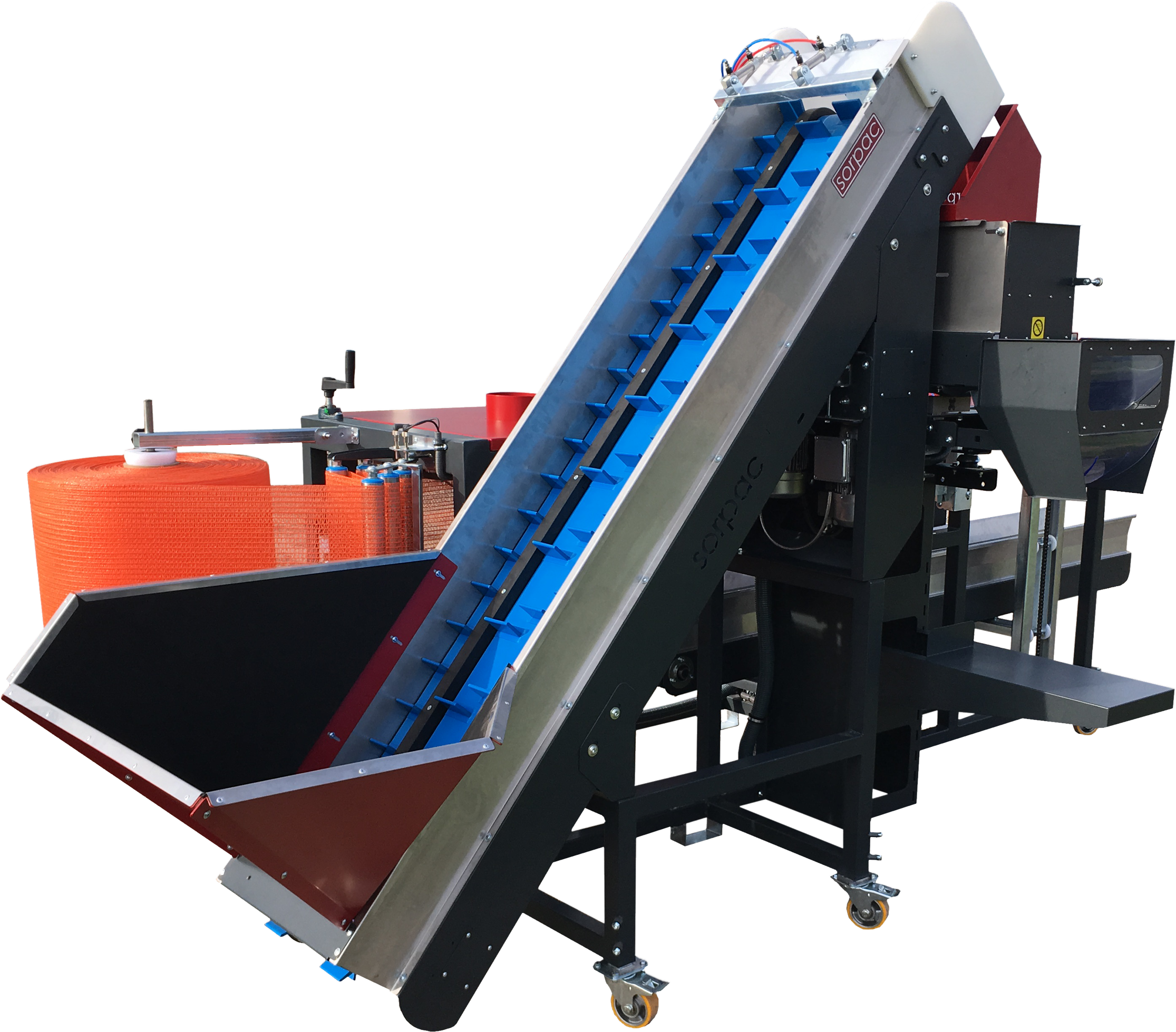 AWRM02
Vegetable brushing machine
Use: Dry cleaning vegetables, potatoes, onions, root vegetables
Equipped with corrugated nylon brushes which do not cause any damage.
Produced in differerent versions:
width 55 cm
– B1055 – 10 brushes
– B1255 – 12 brushes
– B1455 – 14 brushes
width 80 cm
– B1080 – 10 brushes
– B1280 – 12 brushes
– B1480 – 14 brushes
width 110cm
– B1010 – 10 brushes
– B1012 – 12brushes
Optional equipment:
– Inverter for speed control
– Brush pressure parts or rubber
wash
Power supply: 400V 50Hz
Rotational speed: 180 rpm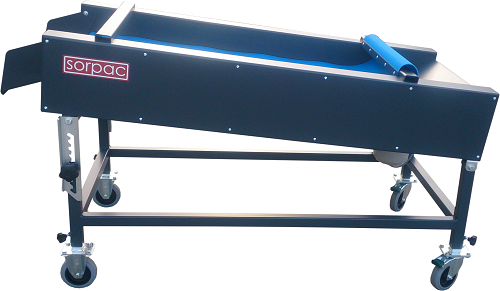 B1055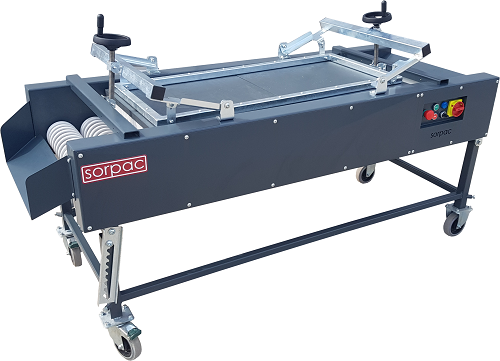 B1255
•
Selection tables for manual selection of potatoes and onions. Produced in several sizes. Equipped with PVC pipe, aluminum or stainless steel. Equipped with inverter to control speed.
Available sizes:
ST2008 – L200cm x W80cm
ST2508 – L250cm x W80cm
ST2010 – L200cm x W100cm
ST2510 – L250cm x W100cm
ST3010 – L300cm x W100cm
ST2012 – L200cm x W120cm
ST2512 – L250cm x W120cm
ST3012 – L300cm x W120cm
Power supply: 400V 50Hz
Linear velocity: 0-0,3 m/s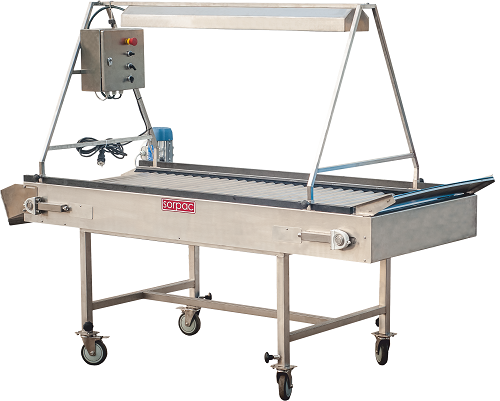 ST2080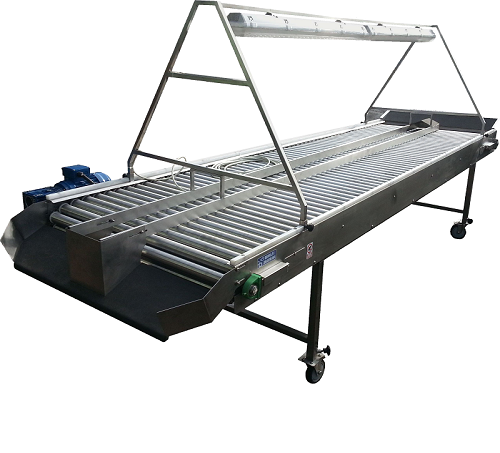 ST3010
Wszelkie prawa do zawartości strony internetowej zastrzeźone dla SORPAC Oblizajek, Pawlak, Steinke, Sp.j. z siedzibą przy ul. Golska 56, 63-233 Jaraczewo, wpisaną przez Sąd Rejonowy dla miasta Poznań, IX Wydział' Gospodarczy Krajowego Rejestru Sądowego do rejestru przedsiębiorców Krajowego Rejestru Sądowego pod numerem KRS 0000542139, zarejestrowana jako podatnik pod numerem NIP 617-220-57-83